We have set cookies in your browser to help make this website better.
Your web browser has problems displaying this site.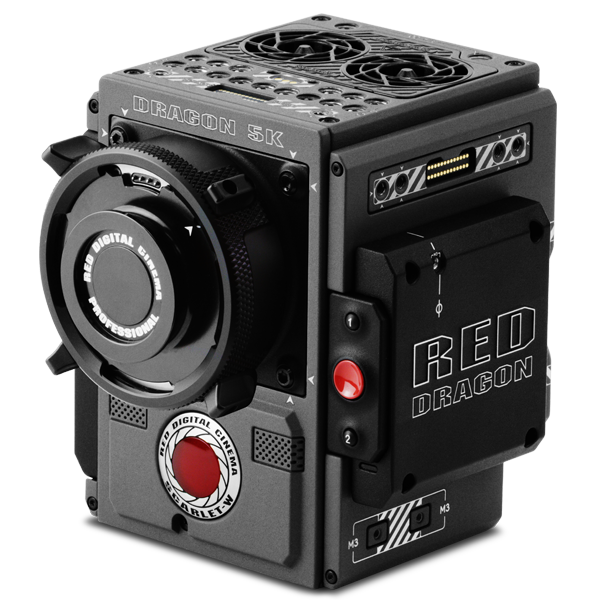 The Perfect
Storm
Carrying on the legacy of the revolutionary RED ONE®, SCARLET-W brings an unparalleled level of accessibility to content creators everywhere. SCARLET-W combines RED's intuitive camera design—including integrated mounting points, interchangeable lens mounts, simultaneous REDCODE® RAW and Apple ProRes or Avid DNxHD recording formats, intelligent OLPF system, and in-camera 3D LUT outputs—with a RED DRAGON® sensor to provide a solution that blends flexibility and accessibility with high-end performance.
Enhance
Your Image
The RED DRAGON sensor allows shooters to get the best shot every time. SCARLET-W harnesses the massive dynamic range of the RED DRAGON sensor to produce cinema-quality images rich with natural color. SCARLET-W's Monochrome camera option gives shooters the ability to capture black and white images that contain enhanced resolution and heightened light sensitivity. SCARLET-W gives you the ability to capture your vision exactly as you see it: 5K 2.4:1 at 60 frames per second (fps), 4K 2.4:1 at 150 fps, or 2K 2.4:1 at 300 fps with REDCODE RAW.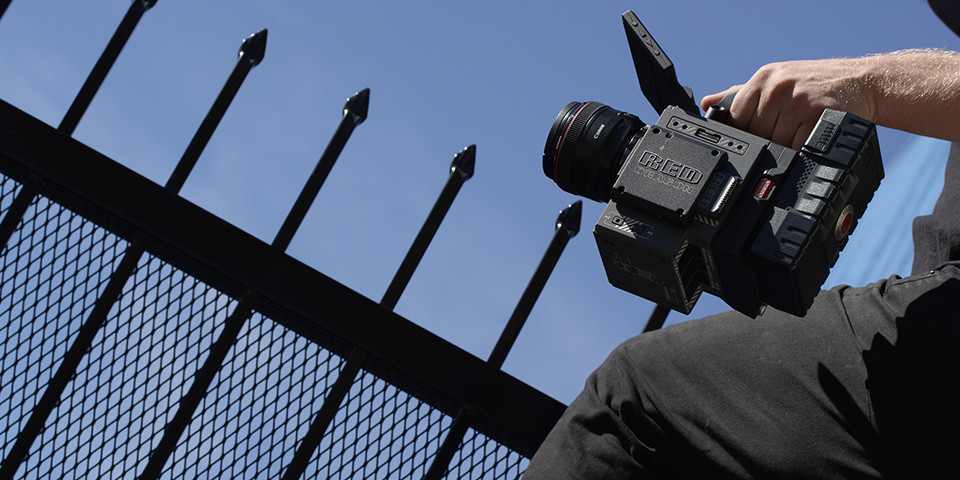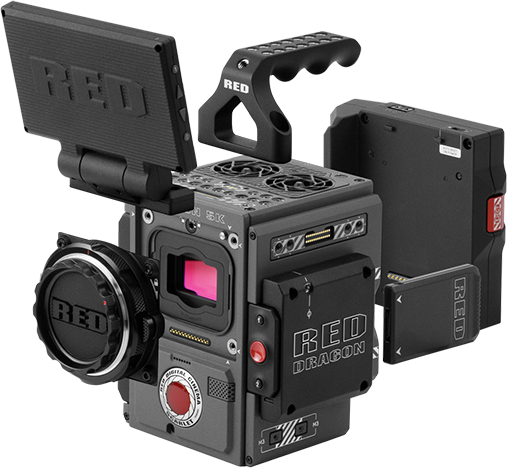 Fully
Customizable
RED's innovative modular design brings maximum flexibility to every professional, providing adaptability in every situation you encounter. Interchangeable lens mount options give you the capability to change your perspective at a moment's notice, while the full range of DSMC2™ module adaptors lets you dial in your camera rig to exact specifications.
Workflow
Made Easy
RED's commitment to providing a seamless workflow persists with SCARLET-W. RED's innovative REDCODE RAW recording format, also known as R3D®, enables shooters to maintain visual integrity throughout post production with non-destructive editing capabilities. Compatible with most professional-grade editing programs, REDCODE RAW easily adapts to your preferred system. Additionally, shooters have the freedom to simultaneously capture options in both R3D and Avid DNxHD or Apple ProRes file formats.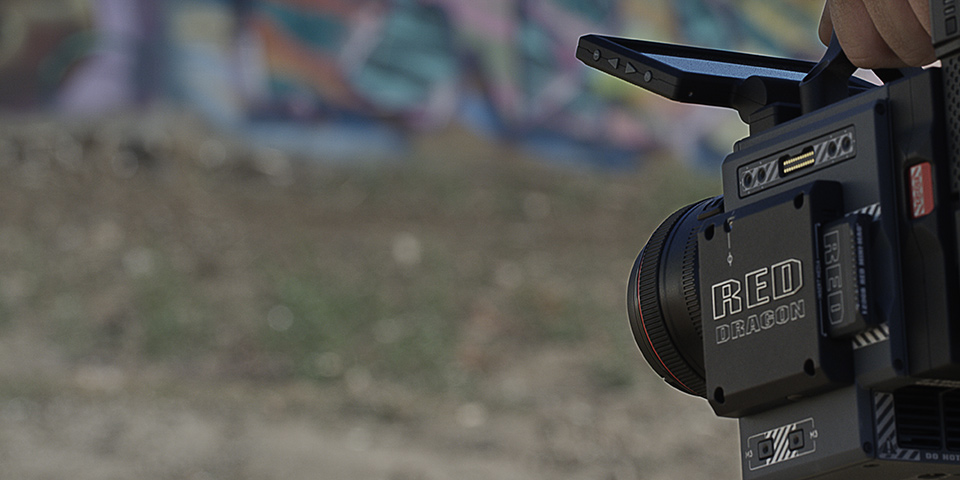 Ready For
Anything
The rugged, durable design of SCARLET-W makes it an ideal option for wherever your journey takes you. Whether you configure your camera to be as lightweight as possible or work with a complex studio configuration, SCARLET-W allows you to feel secure in its abilities to capture cinema-quality images in any circumstance. A Base I/O V-Lock package option comes with the key components necessary for you to get out and start shooting, allowing you to immediately set your production in motion.
Future-Proof
Your Investment
SCARLET-W's introduction reinforces RED's commitment to placing adaptable, high-end creative tools in the hands of professionals everywhere. SCARLET-W offers an upgrade path to WEAPON® and uses the DSMC2 line of accessories—compatible with both WEAPON and RED RAVEN™ cameras—giving shooters the option to move between camera systems without having to purchase all new gear. RED makes OBSOLESCENCE OBSOLETE®.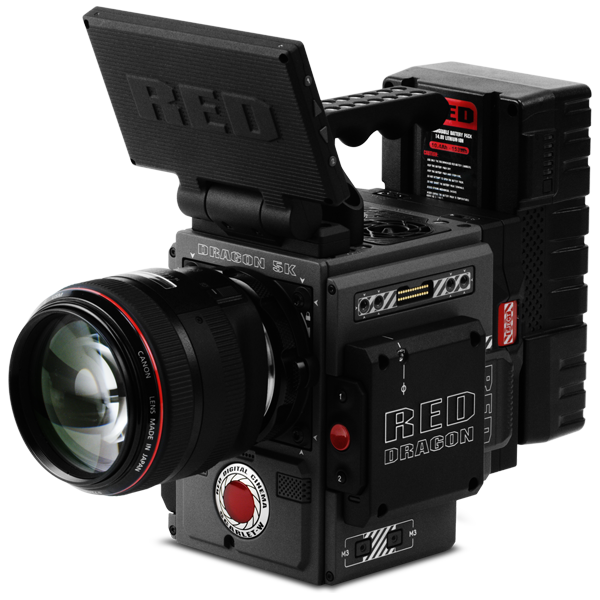 SCARLET-W 5K
SENSOR
| | |
| --- | --- |
| SENSOR TYPE | RED DRAGON 13.8 MP Super 35 mm CMOS |
| EFFECTIVE PIXELS | 5120 x 2700 |
| SENSOR SIZE | 25.6 mm x 13.5 mm (Diagonal: 28.9 mm) |
| DYNAMIC RANGE | 16.5+ stops |
| SIGNAL-TO-NOISE-RATIO | 80 dB |
RECORDING
MAX DATA RATES
Up to 140 MB/s using RED MINI-MAG
MAX FRAME RATES 1
50 fps at 5K Full Format (5120 x 2700), 60 fps at 5K 2.4:1 (5120 x 2160)
120 fps at 4K Full Format (4096 x 2160), 150 fps at 4K 2.4:1 (4096 x 1728)
150 fps at 3K Full Format (3072 x 1620), 200 fps at 3K 2.4:1 (3072 x 1296)
240 fps at 2K Full Format (2048 x 1080), 300 fps at 2K 2.4:1 (2048 x 864)
PLAYBACK FRAME RATES
(PROJECT TIMEBASE)
23.98, 24, 25, 29.97, 47.95, 48, 50, 59.94, 60 fps, all resolutions
REDCODE SETTINGS
RANGE FROM 2:1 UP TO 22:1 1
5:1 REDCODE for 5K Full Format (5120 x 2700) at 24 fps
9:1 REDCODE for 5K Full Format (5120 x 2700) at 50 fps
3:1 REDCODE for 4K Full Format (4096 x 2160) at 24 fps
7:1 REDCODE for 4K Full Format (4096 x 2160) at 60 fps
REDCODE RAW
ACQUISITION FORMATS 2
5K Full Format (5120 x 2700), 2:1, 2.4:1, 16:9, 6:5, 4:1, 8:1, and Ana 2x, 1.3x
4K Full Format (4096 x 2160), 2:1, 2.4:1, 16:9, 3:2, 4:3, 5:4, 6:5, 4:1, 8:1, and Ana 2x, 1.3x
3K Full Format (3072 x 1620), 2:1, 2.4:1, 16:9, 3:2, 4:3, 5:4, 6:5, 4:1, 8:1, and Ana 2x, 1.3x
2K Full Format (2048 x 1080), 2:1, 2.4:1, 16:9, 3:2, 4:3, 5:4, 6:5, 4:1, 8:1, and Ana 2x, 1.3x
APPLE PRORES
422 HQ, 422 and 422 LT at 2K (2048 × 1080) up to 60 fps
AVID CODECS 3
DNxHD HQ, SQ and LB (1920 × 1080) 8-bit up to 60 fps
TYPICAL MAX RECORDING TIME
USING RED MINI-MAG 120GB 5
5K Full Frame (5120 x 2700) at 24 fps and 11:1 REDCODE: 41 minutes
5K Full Frame (5120 x 2700) at 48 fps and 14:1 REDCODE: 26 minutes
4.5K 2.4:1 (4608 x 1944) at 120 fps and 15:1 REDCODE: 17 minutes
GENERAL
| | |
| --- | --- |
| CONSTRUCTION | Aluminum Alloy |
| WEIGHT | 3.5 lbs (BRAIN with Integrated Media Bay) |
| OPERATING TEMPERATURE | 0°C to 40°C (32°F to 104°F) |
| STORAGE TEMPERATURE | –20°C to 50°C (–4°F to 122°F) |
| RELATIVE HUMIDITY | 0% to 85% non-condensing |
FEATURES
COLOR MANAGEMENT
Supports 17×17×17 3D LUTs
Variable number of 3D LUT outputs with DSMC2 expander module
User programmable shaper 1D LUTs
Tetrahedral interpolation, 16-bit processing
AUDIO
Integrated dual channel digital stereo microphones, uncompressed, 24-bit 48 kHz
Optional 2 additional channels with DSMC2 expander module, uncompressed, 24-bit 48 kHz
REMOTE CONTROL
Integrated REDLINK WiFi antenna
Ethernet, RS232, and GPI Trigger with DSMC2 expander module
MONITOR OUTPUTS
3G-SDI (HD-SDI) and HDMI with DSMC2 expander module
1080p RGB or 4:2:2, 720p RGB or 4:2:2
480p RGB or 4:2:2 (HDMI Only)
SMPTE Timecode, HANC Metadata, 24-bit 48 kHz Audio
MONITOR OPTIONS
DSMC2 RED Touch 4.7" LCD, DSMC2 RED Touch 7.0" LCD and DSMC2 RED EVF (OLED) with cable-free connection.
RED Touch 9.0" LCD, RED Touch 7.0" LCD, RED Touch 5.0" LCD, RED PRO 7" LCD, BOMB EVF (OLED) and BOMB EVF (LCOS) compatible with DSMC2 LEMO Adaptor A and LCD/EVF cable.
SOFTWARE
REDCINE-X PRO
DELIVERY FORMATS
4K: DPX, TIFF, OpenEXR (.RED via RRencode plugin)
2K: DPX, TIFF, OpenEXR (.RED via RRencode plugin)
1080p RGB 4:2:2, 720p 4:2:2 : QuickTime, JPEG, AVID AAF, MXF
1080p 4:2:0, 720p 4:2:0 : H.264, .MP4
VIDEO EDITING SOFTWARE
COMPATIBILITY 4
Adobe Premiere Pro, Avid Media Composer
DaVinci Resolve, Edius Pro, Final Cut Pro, Vegas Pro
Tech specs reflect both current and projected information. Everything is subject to change.
1. REDCODE values and max frame rates may vary based on selected acquisition format, aspect ratio, project time base, Lookaround setting, and SSD. For more information on available REDCODE compression settings for all formats, see the DSMC Media Operation Guide.
2. For more information on available acquisition formats, see the DSMC Operation Guides.
3. Avid DNxHD/HR Codecs recording support added to DSMC2 firmware v6.3 or later.
4. Third-party non-linear editing (NLE) applications may have limited compatibility with R3D files.
5. Estimated recording times represent averages over the course of a typical recording to REDCODE RAW only with Pre-Record disabled and may vary depending on subject matter. It is always recommended to perform your own tests using typical camera settings and shooting conditions.